90 Day Fiance
couple
Ashley Martson
and
Jay Smith
's relationship has been a crazy saga featuring breakups, makeups, cheating allegations, divorce filings, arrests, and more for months at this point. So what are the latest developments and spoilers about the
90 Day Fiance
couple, and where do things stand now?
Viewers have watched Ashley and Jay's marriage crash and burn over the entire course of the fourth season of 90 Day Fiance: Happily Ever After?.
RELATED LINK: '90 DAY FIANCE' COUPLES NOW: WHO IS STILL TOGETHER? WHO HAS SPLIT? WHERE ARE THEY NOW? (PHOTOS)
After they officially tied the knot in May 2018 in Harrisburg, PA, Ashley and Jay traveled to Las Vegas to celebrate their already-established union with a more traditional ceremony in Sin City.
However, the pair's relationship hit the skids shortly thereafter when Ashley discovered Jay was messaging and flirting with multiple women on Tinder two days after their Vegas wedding.
Ashley and Jay were on the outs and consistently fighting late last year, but Ashley chose to take him back and give him another chance.
Ashley, however, was reluctant to go ahead with filing for Jay's adjustment of status due to his reckless behavior and trust issues in their relationship. In case they broke up, Ashley didn't want to be financially responsible for Jay for ten years.
As shown on Season 4 of 90 Day Fiance: Happily Ever After?, Ashley discovered Jay had sex with a woman in the bathroom of a barber shop he had been working at as a tattoo artist.
Ashley therefore kicked Jay out of her Pennsylvania home and determined she was done with him and never wanted to see him again.
Ashley then consulted with a divorce attorney, and she chose to go ahead with a no-fault claim because it was faster than filing a fault claim in which Jay would be accused of adultery.
"I want to do what's quickest to get out of it," Ashley told the attorney on an 90 Day Fiance: Happily Ever After? episode.
RELATED LINK: 'MARRIED AT FIRST SIGHT' COUPLES NOW: WHO IS STILL TOGETHER? WHO BROKE UP? WHERE ARE THEY NOW? (PHOTOS)
During her meeting with the attorney, Jay was shown messaging Ashley the following: "I love you so much and just want you to know that and I'm really sorry I put you through so much unhappiness. I wish I could stay with you forever and make up for what I have done but you need time to [think]. Just know I will always love you endlessly and I wish we can work this out."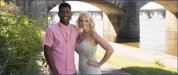 RELATED LINK: '90 DAY FIANCE' COUPLES NOW
Ashley had tears in her eyes when the divorce process started because she loved Jay and would have trouble getting over this, but she insisted turning back was not an option.
Ashley later invited Jay to her house so he could sign the paperwork her lawyer had prepared, informing the Jamaica native that Ashley was looking to go through with a divorce. Jay needed to sign the documents confirming he was being notified.
Jay never thought Ashley was really going to go through with a divorce, so he couldn't believe what was happening — and he didn't know what to do.
After putting up a fight, Jay agreed to sign the papers in exchange for some money to get by and a flight to Miami, Florida to stay with his brother.
Ashley was feeling "exhausted" and "numb" after days of a stressful breakup, and Jay apparently felt the same way.
Jay didn't think he deserved to be with Ashley, but he told the cameras, "I love her and appreciate everything she has done for me. But everyone makes mistakes and you just have to move forward from them."
Jay wanted a second chance with Ashley, but when she dropped him off at a hotel room the night before his flight to Miami, he anticipated he might never see his wife again.
"Our marriage is over," Ashley noted. "I don't think it's hit me yet. I'm sure it will tonight when I go home by myself. I don't feel relieved right now because I'm hurt, but I know it's for the best."
RELATED LINK: '90 DAY FIANCE: BEFORE THE 90 DAYS' COUPLES NOW: WHO IS STILL TOGETHER? WHO HAS SPLIT?! WHERE ARE THEY NOW? (PHOTOS)
Jay wished he had been true to Ashley and confessed he let a beautiful and strong woman walk out of his life. Jay said he finally knew the meaning of, "You never know what you have until it's gone."
Ashley filed for divorce but changed her mind
Ashley filed for divorce in Pennsylvania on January 11. However, she withdrew the divorce paperwork only eleven days later.
At the time, viewers speculated a health crisis Ashley allegedly suffered shortly after had resulted in a reconciliation for the estranged couple, and the finale of 90 Day Fiance: Happily Ever After?'s fourth season showed that was what happened.
Just two days after Ashley filed for divorce, she was allegedly hospitalized for kidney failure and lupus complications and Jay flew back from Florida and visited Ashley in the hospital and was there for her.
The finale showed photos of Ashley sick in a hospital, and she told the cameras she appreciated someone being there to help her. After Ashley returned home, they visited her lawyer together and Ashely told her attorney she had decided to withdraw the divorce.
Ashley threatened to file for divorce again
However, in mid-April, Ashley suddenly made new social-media postings in which she threatened to file for divorce from Jay again.
"It's all fun and games until I get your disgusting cheating ass deported," she wrote on Instagram. "Have fun at the strip club with MY money and MY car you're driving around without a license!"
After Ashley's postings, she and Jay also unfollowed each other.
RELATED LINK: 'BIG BROTHER' SHOWMANCES NOW: WHO'S STILL TOGETHER? WHICH COUPLES HAVE SPLIT UP?? (PHOTOS) 
A few days later, Ashley made additional Instagram postings that appeared to confirm the couple had split and suggested she had caught Jay cheating on her.
"For all you thirsty girls in my soon to be ex husband's inbox, he's all yours. Please do me the favor and take his nasty ass off my hands," Ashley wrote.
Ashley also briefly updated the bio section of her Instagram account to read "Reality TV (star) on TLC… Happily Ever After… Mommy of Two… Single AF."
Ashley filed for divorce a second time
Ashley then subsequently filed for divorce a second time on April 23. 
The divorce filing alleges that Jay — whose formal name is Conroy and is referred to as such in the filing — committed adultery during the course of their 11-month marriage.
Rumors then also circulated on social media claiming Jay cheated on Ashley and got another girl pregnant. Jay, however, denied getting a woman pregnant — but he never denied cheating on Ashley in general.
And Ashley continued to insist Jay cheated on her in several Instagram postings, including one in which she shared the Instagram account of Jay's alleged mistress and called the woman a "homewrecker."
Ashley insisted she was "done" with Jay and going to leave the cheating scandal in the past.
Ashley conducted a pair of Instagram Live sessions with Instagrammer John Yates on June 15 and 16 in which she clarified she did briefly file Jay's adjustment of status paperwork but then withdrew it after he "screwed up again."
"I did file for his adjustment of status, and then two weeks later he screwed up again, so I withdrew it," she said.
RELATED LINK: 'DANCING WITH THE STARS' PROS AND THEIR SIGNIFICANT OTHERS: WHO'S DATING OR MARRIED TO WHOM!? (PHOTOS) 
According to Ashley, she and Jay were scheduled have a court hearing on August 7 in Philadelphia that she expected would result in Jay's deportation "unless he runs."
"He will be deported on August 7 unless he runs, which is what I'm assuming he's probably [planning]," Ashley said.
In addition, Ashley said there was an active warrant for Jay's arrest. 
"[U.S. Immigration and Customs Enforcement] has already been here to arrest him. They know where he works… I mean obviously if they come to my house at this point, I'm gonna tell them where he's at. So I'm not sure why he's still sticking around because we got a letter three weeks ago saying he has an active warrant for his arrest," Ashley explained.
"I didn't know this, but your local police department can not arrest somebody for being an illegal immigrant. ICE has to arrest him. They have to come from Philadelphia and arrest him."
She added, "So unless Jay would like assault me or something, then [in that case the local police] would contact immigration and say, 'Hey, we just charged Jay with assault, he's wanted for deportation,' and then ICE would take over."
Ashley insisted the drama in her life would be "over" after the court hearing in August.
"It's not 'if.' He 'is' going to get deported, and he knows he is. And he even called me. He went to the attorney and he said like, 'I'm f-cked.' Like he even offered money — like, 'Can I pay you to withdraw the divorce?'" Ashley claimed.
RELATED LINK: 'SURVIVOR' COUPLES NOW: WHO'S STILL TOGETHER?! WHICH SHOWMANCES SPLIT UP? (PHOTOS) 
Ashley said Jay offered her "his tattoo money that he makes illegally, because he's not allowed to work."
"He does tattoo and gets paid fully for it, but they're claiming that he's 'an apprentice,'" Ashley told Yates.
According to Ashley, Jay moved out of their shared Pennsylvania home while Ashley was visiting Texas a couple of months ago.
"We were not getting along — he was sleeping with multiple women — so I actually, we got the money for [filming] the [90 Day Fiance: Happily Ever After?] Tell-All… So I actually offered to pay two months of his rent to get him out of my house because he wouldn't leave my house," Ashley told Yates in the June sessions on Instagram Live.
Ashley told Yates that Jay had been sending her mixed messages and signals ever since he moved out. Some of the time, Jay was allegedly begging for Ashley back.
"I have text messages from him from three days ago telling me that he has a sex addiction problem and he'll go to counseling, [and that] he wants to go to couples counseling and he wants to work things out," Ashley claimed.
"You know why? Not because he loves me and he wants to work things out. [It's] because we get paid from TLC [for the season] in one lump sum when the last episode airs. So that's a lot of money at one shot. He wants the money."
Ashley added, "And he's been begging me since the day I filed for divorce to withdraw it and re-apply for his green card."
RELATED LINK: '90 DAY FIANCE: BEFORE THE 90 DAYS' COUPLES NOW: WHO'S STILL TOGETHER? WHO HAS SPLIT?! (PHOTOS)
Jay was arrested by police
The latest news on Ashley and Jay is that Jay is currently in the custody of U.S. Immigration and Customs Enforcement and facing deportation after he was arrested in early July for violating a protective order his estranged wife had obtained against him.
Ashley claimed in an interview with Celebuzz earlier this month that Jay's current detainment is the result of a break-in and subsequent rant on social media.
Ashley alleged that Jay broke into her Pennsylvania home while she was away on a highly-publicized vacation late last month.
Once Ashley returned home from her week-long cruise to the Bahamas, she reportedly called the police and was instructed to file a Protection From Abuse order.
"I filed a PFA, and I took all the evidence in on [July 1]" Ashley told Celebuzz.
"Jay was served at 7:10PM on [July 1], and it specifically said in there 'you're not allowed to talk about this PFA or Ashley at all on any social media platform.'"
But Ashley said Jay did not act accordingly, as he "went on social media and made a post" about her and the PFA "the very next day."
Jay's post read, "Chill. The truth is going to hurt and the truth is going to make some people sick to their stomach. I give zero f-cks about a (PFA). The Truth is still going to come out," according to Celebuzz.
Jay also reportedly wrote on his Instagram Stories, "I realize I always waste my f-cking time trying to care about other people feeling and other people kids and other people f-cking privacy. And no matter what the cops always show up at my house for dumb f-cking reasons no more. And go f-ck yourself."
RELATED LINK: 'LOVE AFTER LOCKUP' COUPLES NOW: WHO IS STILL TOGETHER? WHO HAS SPLIT? WHERE ARE THEY NOW? (PHOTOS)
Ashley then notified the police, who issued an arrest warrant for Jay after they investigated his social media postings and determined he had violated the order.
Ashley claimed officers had called her on in the early morning hours of July 3 to inform her Jay had turned himself in.
The Upper Allen Township police previously confirmed in a statement Jay had been taken into custody without incident on July 3.
"Smith was transported to the Cumberland County Prison for processing and arraignment. A hearing will be held at a later date," the police said in their statement.
Jay was detained for deportation
Jay then went before a judge on July 3 where he was charged with a PFA violation and then reportedly released without bail by the court.
However, since U.S. Immigration and Customs Enforcement also had an active warrant for Jay's arrest due to his immigration status, he was handed over to the federal agency, who subsequently transferred him to York County Prison in Pennsylvania.
"He's in our custody. He's just getting put into the facility," a U.S. Immigration and Customs Enforcement spokesperson told RadarOnline on July 3.
"It looks like he's going to be going through the motions. He will see an immigration judge to see if he'll be deported."
RELATED LINK: 'THE BACHELOR' FRANCHISE COUPLES NOW: WHO IS STILL TOGETHER? (PHOTOS) 
According to Ashley, Jay's arrest on the PFA violation merely accelerated his detainment by U.S. Immigration and Customs Enforcement, as they had allegedly already been planning to detain Jay on July 8 due to his outstanding warrant.
Ashley told Celebuzz that ICE had been looking for Jay since June 28 since he's been living in the United States illegally since she withdrew his adjustment of status paperwork earlier this year.
Although Ashley filed for divorce from Jay in April, citing "adultery" on Jay's part as the reason for their split following months of cheating allegations and rumors, the divorce has not been finalized and the pair are still legally married.
Jay started a GoFundMe
Jay currently has an active GoFundMe account to raise money to hire a lawyer to help free him from the custody of U.S. Immigration and Customs Enforcement.
The financial goal was set at $5,000, and as of July 12, over $3,600 had accumulated.
Jay's Instagram account is promoting the fundraiser, which is being updated by a friend who visited Jay in detention on July 6 and claims Jay is in trouble and needs some serious help.
"Jay is sitting in jail, awaiting a hearing on wether he will be deported or be allowed to make a life for himself here in the U.S… however the way our system works with immigrants is different than how they treat citizens. They will hold him for a month or months, there's no really telling how long, before even giving him the right to see a judge," the GoFundMe account reads.
"The only way for him to sooner see a judge and pretty much have basic human rights is with a good attorney. Also the only way for Jay to avoid deportation from the U.S. is with a good attorney."
RELATED LINK: '90 DAY FIANCE' COUPLES NOW: WHO'S STILL TOGETHER? WHO HAS SPLIT?! (PHOTOS)
The friend continued, "Jay fears for his life if he is returned to Jamaica.. he is now seen as a traitor who has turned his back on his people and they will assume he has money since he was in America and on an American TV show so that keeps him at a continuously high threat for his safety if he is returned home."
"Jay has not received his share of the money for being exploited on this tv show and we are asking help to obtain him a lawyer."
Jay's sister Poochie claimed Ashley has a rich old sugar daddy and cheated on Jay first
After Jay's detainment, Jay's sister Poochie made several shocking public accusations against Ashley — including claims that Ashley is the paid mistress of a rich old sugar daddy and that Ashley's affair is what caused Jay to cheat on Ashley other women.
Poochie, whose actual name is Raine Smith, made the allegations in a rambling, expletive-filled series of Instagram Stories postings earlier this month.
"I'm writing these posts with tears in my eyes because I hate you for everything that you've been doing to my brother, even when you know you've been cheating on him first!," Poochie wrote in a posting directed at Ashley.
"[You're] just mad because the whole world saw what he did on TV!!"
According to Poochie, Ashley allegedly visited her sugar daddy, whom she also identified by name and claimed is married, every week and received money in exchange for sleeping with him.
"How could my brother be happy when he found out you've been going to Delaware every Tuesday to f-ck some old man for $1000," she wrote. "Her sugar daddy name is [redacted] and he has a wife!"
Poochie — who posted nearly two dozen Instagram Stories postings detailing her allegations — also claimed Ashley openly continued the alleged relationship even after Jay learned about it.
"When my brother found out about your sugar daddy you forced him to be okay with it, but he was stupid enough to give into you but after all he loved you and was f-cking dumb!!," she wrote.
According to Poochie, Ashley "never loved" Jay and only stayed with him because she wanted to continue to appear on 90 Day Fiance and its 90 Day Fiance: Happily Ever After spinoff.
"She never loved my brother either she just wanted some big black D, and she wanted to stay in the show and she couldn't without him!," she alleged.
"She was the one that got paid and she hardly gives my brother his share of [the] money!"
Poochie claimed Ashley's infidelity is why Jay has repeated made cryptic comments in which he's suggested there was a reason he cheated on Ashley and it was her own fault.
"Who's fault is that?" the tattoo artist told Ashley on 90 Day Fiance: Happily Ever After's June 30 broadcast when Ashley learned he'd had sex with a female customer in the bathroom of the barber shop where he was giving her a tattoo.
Ashley then started screaming and got up in Jay's face, pointing her finger at him.
"It's my f-cking fault?! Get your ass out!" Ashley yelled, pushing Jay. "Take your f-cking dirty ass out of my house!"
However, Poochie alleged Ashley knew exactly why Jay made his comment.
"When he said to her 'You don't know why I did it' and she assaulted him on camera [it was] because she knew what he meant!," she wrote in an Instagram Story.
"She cheated on him before he got to [Pennsylvania], and while he was there countless amount[s] of times, he [could have] came back home but he was f-cking stupid to stick around and be mistreated by her!"
In addition to her claims about Ashley's alleged infidelity, Poochie made several other allegations about Ashley in her Instagram postings. 
According to Poochie, Ashley also used a fake text message app to create a fake text message that made her former friend Natalie look bad, made multiple fake Instagram accounts, and has lied about her claims that she didn't know Jay was only 20 until she applied for his K-1 visa.
"She knew he was 20 because he told her and she did not care because she wanted a 20 yr old Black d-ck!," Poochie alleged. "I never saw a problem because I always say age is nothing but a number! But don't say he lied about his age because you knew from Day 1."
Poochie also claimed 90 Day Fiance's producers "set up" the incident in which Jay had sex with a female customer in the barber shop and he merely "fell right in the trap."
"And for everyone that watch the barbershop episode it was all a set up because [Ashley] called me right after telling me that the show set it up and Jay was so f-cking horny and stupid and fell right in the trap!" she alleged in an Instagram Story.
"And when he gets out [I'm] personally gonna f-ck him up for letting me go through this sh-t!"
Ashley says Jay's GoFundMe is a lie
Ashley has claimed the reason for Jay's GoFundMe is a lie.
Ashley alleges the money is really intended for the hiring of a defense attorney to fight the protective order violation Jay was charged with.
"In regards to the GoFundMe… it was all lies," Ashley told Celebuzz.
"The GoFundMe was made to pay for a criminal defense attorney to fight a PFA violation."
The GoFundMe description of Jay's legal battle also states the PFA violation charges were dropped, which Ashley is denying.
"[Jay's friend] specifically states the charges were dropped for the PFA on the GoFundMe. That was a total lie. We had court [on Wednesday, July 17] where a judge found Jay guilty of violating the PFA," Ashley said.
"Everyone who donated money paid for an attorney to try and fight charges of abusing a woman, not to save Jay from deportation."
Public court records show that Jay was found guilty of Contempt For Violation of Order or Agreement, and he was paroled by the state court immediately but ordered to abide by the existing protection from abuse order.
However, since Jay was already being detained by U.S. Immigration and Customs Enforcement pending his deportation hearing, he remains in federal custody.
RELATED LINK: '90 DAY FIANCE' COUPLES NOW: WHO IS STILL TOGETHER? WHO HAS SPLIT? WHERE ARE THEY NOW? (PHOTOS) 
Want more 90 Day Fiance spoilers? Click here to visit our 90 Day Fiance Spoilers webpage!