90 Day Fiance: Happily Ever After?'s
Part 1 of the Tell All special featured the season's couples reuniting and providing fans with updates on their relationships, but in the meantime, drama exploded — especially between
Chantel Everett
and
Pedro Jimeno
.
The Tell-All broadcast of 90 Day Fiance: Happily Ever After?'s fourth season starred Chantel and Pedro, Ashley Martson and Jay Smith, Colt Johnson and Larissa Christina Dos Santos Lima, Paola Mayfield and Russ Mayfield, Nicole Nafziger, and Elizabeth Potthast and Andrei Castravet.
RELATED LINK: '90 DAY FIANCE' COUPLES NOW: WHO IS STILL TOGETHER? WHO HAS SPLIT? WHERE ARE THEY NOW? (PHOTOS)
Nicole's fiance, Azan Tefou, did not make an appearance during the first part of the Tell-All, while Larissa was only able to video chat with the cast due to her upcoming court date.
The past season of 90 Day Fiance: Happily Ever After? featured painful realities and unexpected obstacles as the couples navigated cultural differences, pregnancies, in-laws, scandals and more.
There were explosive fights, confrontations, tears and even police involvement, and the Tell-All gathered everyone together in New York City for a reunion special hosted by Shaun Robinson.
Below is an update on each 90 Day Fiance: Happily Ever After? couple:
CHANTEL and PEDRO
Chantel wasn't looking forward to re-watching and then confronting Pedro about his behavior in the Dominican Republic, and he anticipated Chantel was going to be "very angry" with him because there were still a couple of things she didn't know.
When the cast members joined each other onstage, Chantel accused Colt of speaking negatively about multiple cast members and being disrespectful to everyone. Ashley agreed, giving Larissa props for staying with Colt as long as she did.
RELATED LINK: 'MARRIED AT FIRST SIGHT' COUPLES NOW: WHO IS STILL TOGETHER? WHO BROKE UP? WHERE ARE THEY NOW? (PHOTOS)
Once the pair joined the rest of the cast onstage, Chantel owned up to there being "a lot of friction" between herself and her husband.
Chantel told Shaun there was a lot of tension between their two families and she refused to fight with Pedro again in front of everyone.
Pedro still argued Chantel's family had started the blowup fight at the dinner table, but Chantel said there was no good excuse for Pedro putting his hands on her brother River.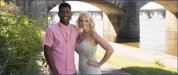 RELATED LINK: '90 DAY FIANCE' COUPLES NOW
Colt demanded that Chantel should let her Pedro talk because she did all the talking.
Chantel then watched footage of Pedro taking off his wedding ring, partying and dancing with his sister Nicole's friend Coraima. Chantel immediately broke down into tears, saying she had never seen parts of that night.
Chantel accused Pedro of wanting to go to the Dominican Republic to "hang out with hoes."
Pedro said the lap dance didn't mean anything, but Paola called him out for his inappropriate behavior.
"I never cheated on you," Pedro insisted to Chantel, although he said during the footage that Coraima looked good that night. "I've said 'sorry' so many times for what happened that night — and it's never going to happen again."
Shaun then welcomed Chantel's parents, Karen and Thomas, into the conversation via video chat. Pedro left the room in that moment, and Chantel griped, "Like always."
RELATED LINK: '90 DAY FIANCE: BEFORE THE 90 DAYS' COUPLES NOW: WHO IS STILL TOGETHER? WHO HAS SPLIT?! WHERE ARE THEY NOW? (PHOTOS)
Karen said Pedro had a lot of growing up to do, but he wasn't willing to sit there and listen.
Karen said she hoped Pedro would "mature and become a man," and Chantel added Pedro didn't want to confront his problems with Chantel — although Chantel's family typically confront issues head on.
Karen was also upset Pedro's mother had threatened to beat up Chantel's loved ones.
"The apple does not fall far from the tree," Karen said.
"I do believe Pedro loves Chantel but his mother and sister are definitely in his ear. So he is a confused man," Thomas explained.
Pedro argued he wasn't confused at all and Thomas' words didn't make sense.
"Your family never cared for me, and that's real!" Pedro yelled.
Chantel insisted her family cared for Pedro but just didn't trust him. Pedro said he proved Chantel was his priority because he moved back to the United States with her.
Pedro also reminded Chantel that her family had called the police on him during his blowout fight with River.
"Yeah, that's love," Pedro said sarcastically.
Chantel told Pedro that she wasn't welcome in his parents' home while her family never stopped Pedro from coming around to family events.
RELATED LINK: 'BIG BROTHER' SHOWMANCES NOW: WHO'S STILL TOGETHER? WHICH COUPLES HAVE SPLIT UP?? (PHOTOS) 
Pedro said he had been in depression over the last couple of months and "really down" because his wife never took his side. He and Chantel weren't sure whether their relationship could bounce back from all of this drama and family tension.
"I don't know whether to stay in this marriage and stay here with my wife… or f-ck off," Pedro admitted.
Pedro insisted he wanted his marriage to survive.
ASHLEY and JAY
Ashley was nervous about seeing Jay because of everything that had happened. She felt "stupid" and "like a fool." But above all, Ashley regretted not leaving Jay sooner because he was so young.
Before the show began, Ashley told Pedro that Jay was "a cheater" and she didn't know where he was.
Jay apparently arrived late for the Tell-All. He intended not to show up at all, saying there was a lot more to his story with Ashley and he was prepared to defend himself.
Once all of the cast members joined each other onstage, Ashley announced she and Jay were getting a divorce and she felt "hurt and betrayed."
RELATED LINK: 'DANCING WITH THE STARS' PROS AND THEIR SIGNIFICANT OTHERS: WHO'S DATING OR MARRIED TO WHOM!? (PHOTOS) 
Ashley said a lot had happened since filming of 90 Day Fiance: Happily Ever After?'s fourth season wrapped.
After Ashley got sick with lupus complications and had taken Jay back because he cared and supported her through illness and surgery, she claimed, "He cheated again in April."
"That's when I said, 'I'm done,'" Ashley said.
Jay argued Ashley had been messaging her ex and so he began talking to a girl and Ashley "just got crazy about it."
Ashley claimed she and Jay were together and sleeping in the same bed when he was messaging another woman, and Paola insisted it was "gross" and "disgusting" of Jay because he was married.
But Paola said she shouldn't have expected more from a 21-year-old boy.
Ashley admitted it was tough to look at Jay sitting across from her. She said she still loved Jay and would never deny that but she deserved much more.
"It makes me feel sad because I honestly loved her. I honestly love her," Jay admitted. "I actually do [have remorse]. I wish I treated her better and stuff but I can't go back and fix it."
Jay said he'd definitely take another chance with Ashley if given the opportunity because he loved her and her children and everything about her.
RELATED LINK: 'SURVIVOR' COUPLES NOW: WHO'S STILL TOGETHER?! WHICH SHOWMANCES SPLIT UP? (PHOTOS) 
Jay said Ashley would have to change as well if things were going to work, but then Paola accused Jay of just wanting a Green Card and to stay in the country.
Jay said there was a lot more to the story and a lot would have to change for his marriage to work out.
ELIZABETH and ANDREI
Elizabeth shared her daughter Eleanor acts like herself but looks like Andrei. She noted their baby is sweet but feisty.
Elizabeth advised Chantel and Pedro that "life is too short" and they should figure it out. Elizabeth said they should find common ground because they clearly loved each other.
RUSS and PAOLA
Russ said he and Paola had been on a roller-coaster ride for months and so he wasn't looking forward to the Tell-All special.
Paola also said the calm and collected person she was when she was pregnant was gone and she's no longer patient.
Paola was nervous about the Tell-All because she and Russ struggle to communicate. She said when they try to discuss something, a big argument breaks out.
Once the cast members joined each other onstage, Paola and Russ gushed about their son Axel's amazing personality, saying he also looks just like Russ.
NICOLE and AZAN
Nicole said it had been a year since she saw Azan last but she planned to visit him in Morocco soon and get married over there.
Nicole explained she had canceled her trip to Morocco but wouldn't give an explanation as to why.
RELATED LINK: 'LOVE AFTER LOCKUP' COUPLES NOW: WHO IS STILL TOGETHER? WHO HAS SPLIT? WHERE ARE THEY NOW? (PHOTOS)
Azan said the trip didn't happen "because sometimes, things are just personal."
Nicole admitted it sucked to be on the show without Azan again because she couldn't wait for the day when they could actually appear together as a couple.
COLT and LARISSA
Before the Tell-All special began, Colt told the group he hadn't spoken to Larissa in months. Pedro told Colt the way to be happy is to get divorced, and Chantel barked at Pedro to shut up.
"Love is not enough, I've learned that the hard way," Colt said.
Chantel then accused Colt of loving his mother more than his wife and not making Larissa his priority. Colt argued that he loved his mother and supported her because she had no other family left.
Colt told Chantel that she didn't know sh-t and so she should keep her mouth shut.
With that being said, Chantel got up in his face. She told Colt not to disrespect her or open his mouth to her during the entire Tell-All.
Larissa chose not to attend the Tell-All because her court date was a couple of weeks away.
"I was feeling something bad might happen and that Colt might want to do something, so I have to call to New York. My feelings toward Colt are the same, just sad and pain," Larissa said. "I loved him with all my heart."
Larissa's boyfriend Eric, however, was by her side for the Tell All. She assumed Colt was going to be surprised to see her with her new boyfriend.
RELATED LINK: '90 DAY FIANCE' COUPLES NOW: WHO IS STILL TOGETHER? WHO HAS SPLIT? WHERE ARE THEY NOW? (PHOTOS) 
Eric was nervous about being a part of the Tell-All, especially because he had never seen Colt before, but he seemed prepared.
Once everyone joined onstage, Larissa said she was very happy she was no longer with Colt. Andrei, however, believed Larissa had "scammed" Colt.
Colt sarcastically told Larissa he was sorry for loving her and providing for her, adding that he was sorry his mother tried to care for her like a daughter, cook for her every day, and drive her everywhere she needed to go.
Larissa then declared she and Colt were divorced.
"It is what it is," Colt noted.
Larissa said she had discovered some things that didn't make her happy.
Want 90 Day Fiance spoilers? Click here to visit our 90 Day Fiance Spoilers webpage!